Digital marketing is the act of promoting and selling products and services by promoting online marketing strategies such as social media marketing, search marketing, and email marketing. We believe digital marketing should be driven by business objectives and focused on target audiences. We use an integrated and flexible approach, apply a variety of skill sets throughout our team, and dedicate ourselves to constantly improving results.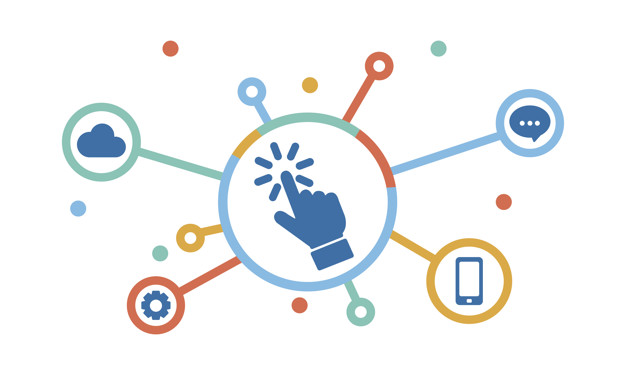 Why should you choose DIGIPAPS as your digital marketing agency?
Digipaps is a team of professional strategists, designers, developers and content creators, all with whom have a wide range of specialities and interests.... We enchant from this distinct assemblage of talents and expertise to put unitedly the perfect team for every client account.
Driven by Business Purposes
Our success stems from a consistent focus on customer goals throughout the life of the campaign. Establish goals and KPIs before deciding on the tools, strategies and campaigns we will use to achieve that.
Focused on Target Audience
Every strategy we present is built on a deeper understanding of your audience, based on statistical data and direct human response.
We create an integration strategy and ensure that all digital advertising methods work in concert.
SEO
Get closer to using the search engine with the first impression of the users. Instead of attempting to calculate search engine algorithms, we focused on building relevant websites, building clear data, and informative metadata and tags. By combining these elements with outstanding content, we provide users with the information and information they need. This approach improves the setting of search rankings, quality organic traffic for our clients healthily and sustainably.
CONTENT MARKETING
Content marketing is a systematic marketing strategy that focuses on creating and distributing relevant, effective, consistent content to attract and retain a clearly-defined audience - and, ultimately, drive profitable customer action. Digipaps helps clients develop a content strategy, drive their publications with an editorial calendar and implement the creative and technical sources to keep a steady flow of quality content that will engage the target audience.
SOCIAL MEDIA MARKETING
Social Media Marketing includes publishing great content on your social media platforms, listening to and engaging your followers, analysing your results and running social advertisements. The Digipaps digital team provides you with social content themes, posting schedules and strategies to increase access and engagement throughout the social network that is relevant to your business. Everyday things get more fun when people get in touch and the strategy works.
DIGITAL PR
Digital PR includes getting high-quality backlinks from websites and online books and good (hopefully) customer satisfaction. At Digipaps we begin by identifying industry publications, niche blogs, communication forums and opportunities for professional placement. After that, we work with your team to publish quality and branded content outside of your domain that identifies you and inform search engines that your team and your top team are authoritative.
WEBSITE OPTIMIZATION
Website optimization includes processes such as entering the right keyword and phrases on the website, editing meta tags, image tags, and making certain parts of your website to ensure that it is available in the search engine and improve every opportunity the website will be displayed by search engines.
ANALYTICS
Analytics enables you to quantify the results of making a change to your marketing strategy, and that's valuable to the process of developing and optimizing online marketing operations. The biggest advantage of using proper analytics is being able to recognise strengths and deficiencies.
EMAIL MARKETING
Email marketing is a powerful way to connect with essential customers, clients, prospects and others who are interested in your business. While we create your email marketing strategy, we look at the targeted audience, the content that the individual needs and when they need you. We wonder if the content should be included in a multi-email campaign, whether the emails should work and how your emails fit your overall marketing strategy. The result is an email program that works with your other marketing strategies to build meaningful relationships with your audience.